Question 23 of The Impossible Quizmas starts with a black screen with a quote from A visit from St. Nicholas; "Twas the night before Christmas, when all through the house not a creature was stirring, not even a mouse..."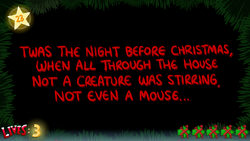 You are then brought to a screen with Chris sleeping in front of a fireplace. There appears to be several clickable objects in the room, however, clicking anything other than one of your collected Skips will take away a life.
The solution is to play out the scene as the quote said; "not a creature was stirring, not even a mouse". That's right, the mouse cursor is the cause of the problem. Keep it still, or move it out of the flash window, then wait for a few seconds to proceed to the next question.
Trivia
The reason everything appears to be clickable is that the entire scene is one large clickable object.
There are several references to previous entries in the series around the room.
Community content is available under
CC-BY-SA
unless otherwise noted.