Question 24
Difficulty

Somewhat hard

Special Attributes

Variable; 6 possible layouts

Bomb

10 seconds

Reference(s)

"Rudolph the Red-Nosed Reindeer"
The Question 24 of The Impossible Quizmas tells the player to "Choose your team!", then presents Rudolph and Santa looking at a board with 13 named pictures of reindeer, as well as a horse named Hoss, and Vixen wearing a red headband with antlers. There is also an explosive Quizmas Pudding counting down from 10.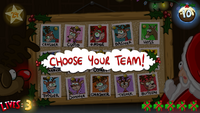 The solution is simple enough; click the eight reindeer named in the "Rudolph the Red-Nosed Reindeer" song. This includes Vixen, despite her being an actual vixen, rather than a reindeer. The other seven are Dasher, Dancer, Prancer, Comet, Cupid, Donner and Blitzen. It doesn't matter which order you click them in, you just have to click all eight.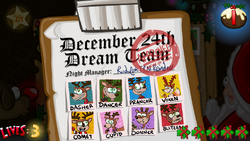 The picture layout is randomised, with 6 possible configurations. Several of the other reindeer have similar names to the ones you're after, so watch out. Once all eight have been picked, a clipboard of the "December 24th Dream Team" appears, with the pictures of the selected reindeer appearing in the same order as in the song. It is signed by "Rudolph T.R.N. Reindeer" and receives an approval stamp by the office of Santa, marking the end of the question.
Avoid clicking Hoss the horse, or any of the reindeer with incorrect names: Crasher, Fadge, Gnasher, Spanner, Tasher and Todger. Doing so will not only lose you a life, but all the reindeer will reset, effectively losing all of the reindeers you picked. Also, the Quizmas Pudding won't reset if this happens, meaning you will have a lot less time to repeat the answer.
Trivia
Vixen's fake antlers is one of the collectable Quizmas Presents available in the game.
This question was teased in a blurry screenshot on Splapp's tumblr.

Additionally, Prancer and the cork board was used in a teaser counting down to the game's release.
Community content is available under
CC-BY-SA
unless otherwise noted.