Question 26 of The Impossible Quiz puts you in front of a couple of traffic signs with the names of several places, with the question above them saying "Which of these place names doesn't exist?". There are seven possible answers within the signs: "Germansweek", "Bitchfield", "Arsefacey", "Blubberhouses", "Brown Willy", "Budd's Titson" and "Twatt".
All of these names belong to real places which you can find in the UK, except for "Arsefacey", which is the correct answer. The rest of the names were specifically picked to confuse the players, but they're actual place names.
Mobile version
In the iOS version of The Impossible Quiz, the question and the signs remain the same, but there are only four possible options instead of the original seven: "Germansweek", "Arsefacey", "Brown Willy" and "Hell Creek". The answer is still "Arsefacey".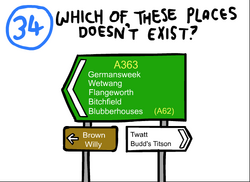 Trivia
This question was originally conceived as Question 34 in The Impossible Quiz Beta, an unreleased extended version of the Demo which included 10 extra questions, which only very few people ever got the chance to play. A screenshot of the question, along with screenshots of all of the extra questions, were released by Splapp-Me-Do on his Tumblr page on January 2014. This question remains essentially the same, except "Arsefacey" wasn't an option; instead, there were two other options: "Wetwang" and "Flangeworth", the latter of which was the correct answer.
The real locations of the place names:

Germansweek: West Devon
Bitchfield: Lincolnshire
Blubberhouses: North Yorkshire
Brown Willy: a hill in Cornwall
Budd's Titson: Cornwall
Twatt: Shetland Islands (also Orkney Islands)
Hell Creek: Montana, USA
Wetwang: East Riding of Yorkshire
Community content is available under
CC-BY-SA
unless otherwise noted.