Question 36 of The Impossible Quiz says "What do you call a wingless fly?". The possible choices are "A flap", "A walk", "A plum", and "Jason". This is the first of nine questions from the Quiz with an idea coming from deviantArt user Rabid-Coot (formerly called Etinogard), which is one of the very few collaborators of the game.
The answer to the question is "A walk", because considering the fly just so happens to fly, and a fly without wings cannot fly, then an appropriate name for it is "walk", since the only thing it can do to move is to walk.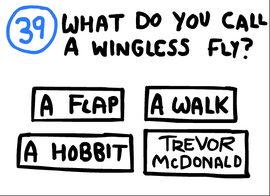 Trivia
This question was originally conceived as Question 39 in The Impossible Quiz Beta, an unreleased extended version of the Demo which included 10 extra questions, which only very few people ever got the chance to play. A screenshot of the question, along with screenshots of all of the extra questions, were released by Splapp-Me-Do on his Tumblr page on January 2014. The only difference between this and the Beta version is that the options "A plum" and "Jason" were originally "A hobbit" and "Trevor McDonald", but the correct answer is still "A walk".
Community content is available under
CC-BY-SA
unless otherwise noted.